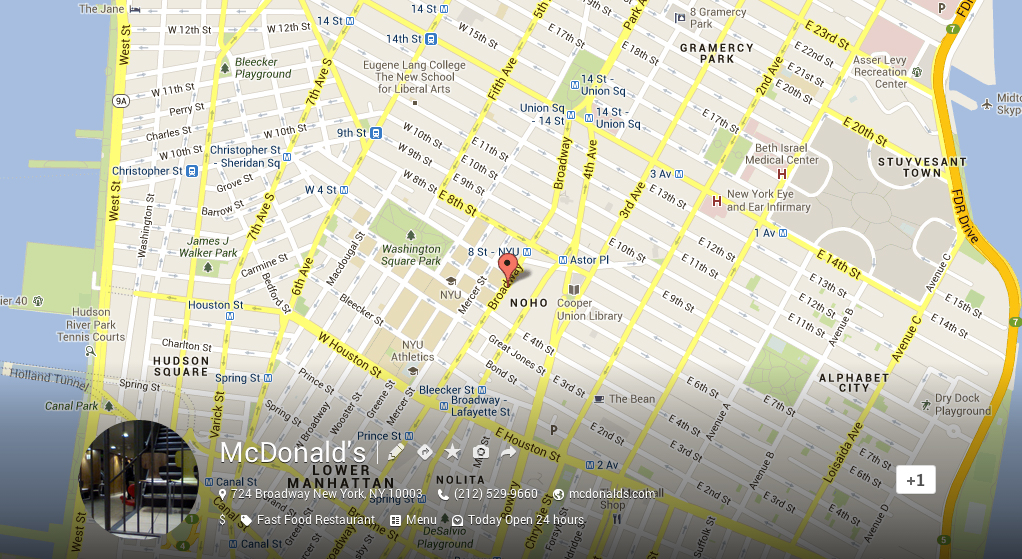 Robert Cliche lives in New York City and goes by Bert. On October 10, 2010, he met Stan Lee, at ComicCon 2010, with his wife and three children. In December of that year, following a plane crash near his children's elementary school in Massachusetts, Cliche helped organize a safe landing zone for a helicopter to help injured passengers. It appears he may be a volunteer fireman. On the 25 of March, 2011 he went to a Morton Williams supermarket. On the following day, he enthusiastically attended a lecture by Argentine artist and winner of the Nobel Peace Prize, Adolfo Pérez Esquivel, who has referred to the US as an "axis of evil". On July 24, 2011, Robert Cliche ate at the McDonald's at 724 Broadway, and felt that the service was slow.
In January 2013, Jeree Anderson was having weird dreams. In early February of 2012, Jeree Anderson had a great weekend, in part because she reconnected with her younger brother, who was stronger and taller than when she had last seen him. A week later she was so annoyed because a friend or relative would not go out or do anything with her. In December, or 2011, Jeree moved in with her boyfriend and got a Nook HD. On March 19, 2011, Jeree Anderson had an ice cream cone for $1 and chicken mcnuggets for $1.19 at the 724 Broadway McDonald's.
At the beginning of 2013, Sevvy Coffin described finding humor in the pornography spam emails in her email trash folder. On January 31, 2012 she spent a few hours at the Port Authority in New York with someone named Jet. Sevvy Coffin is from Nowhere & Everywhere. On December 10, 2011, Sevvy Coffin had to wait for 15 minutes for the really slow, unfriendly staff to give her one Big Mac at 724 Broadway McDonald's.
Edward Espitia grew up in Pensacola, Florida and moved to New York in 2011 to pursue a career in fashion. On February 15, 2013, Espitia peed a little because he saw Jessica Brown Findlay at Grimaldi's in Dumbo. On July 6, 2012, Espitia wrote that he would never use or condone the use of new fur but can appreciate vintage pieces. On August 21, 2011, at 3:30am, Edward went to the McDonald's at 724 Broadway, and was surprised that there weren't more people there.
On February 20, 2013, Carlos Zambrano lamented his inability to complain about something for fear of revealing a secret. On February 6, he wondered if there was anything more sexy and provocative than a wink from an unfamiliar woman. On December 24, 2012, he referred to platonic love as a demon. On November 1, 2012, Zambrano's 5 year old MacBook Pro died. For Zambrano, September 28, 2012, did not have flow. On September 20, 2012, Zambrano listed examples of things that are made with artificial ingredients, including coffee without caffeine and nicotine-free cigarettes. On June 5, 2011, Carlos Zambrano made the McDonald's at 724 Broadway his home for a week because there was free wifi available.
Steve LeVine is a follower of "Stenroism," a religious view apparently named after his own nickname. On November 14, 2011, his wife's birthday, LeVine wrote that he was lucky to have found his soulmate. On June 26, 2012, LeVine created a detailed plan to relocate all illegal immigrants in the US to Puerto Rico. On December 15, 2012, Levine expressed his belief that stricter gun control laws would not prevent tragedies like the one that occurred in Newtown Connecticut the day before. On December 26, 2012, Steve LeVine ate at the McDonald's at 724 Broadway, and agreed with many others that the service was slow, uncaring and unfriendly. This week, LeVine nearly peed himself after watching a video of a woman eating a hot pepper.
Christine Wang was born in Taiwan and went to high school in Great Neck, New York. As a child she was a devoted equestrian. She also loved ice skating and Super Bowl ads. As early as June of 1988, Wang began working in New York City, beginning a career that would span art retail, architecture, fashion, editing, writing, gallery director, real estate consulting, market research and marketing director. On May 23, 2012, Christine, perhaps with a craving for fast food, visited the McDonald's at 724 Broadway in Manhattan.